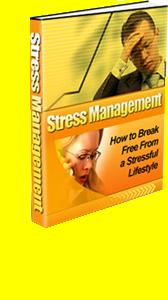 Now this is a real little gem and that's why I'm offering it up as the king of them all 'Platinum' upgrade. So what will you get if you opt for Platinum? Everything you've just read about on the main website, plus the
GOLD
Goal Setting Made Easy: Your Guide To Achieving Order & Balance
eBook discussed above AND this timeless guide called "
Stress Management: How To Break Free From A Stressful Lifestyle.
" It's pictured on the left, but is once again available to you as an eBook for immediate download when you opt for the Platinum package below.
Learn how to identify the stressors in your life, eliminate those that can be removed, react positively to stress and alleviate stress in a variety of different ways without drugs.
Stress manifests itself in many different ways and can be either self induced or something that occurs in life. We can never eliminate stress from our lives as stressful situations are part of life.
This book will teach you different tips as well as old secrets on how to identify the stressors in your life as well as learn to manage them. A must read!
The Platinum upgrade adds just $19 to the GOLD price. This is your one-off opportunity to get all 3 eBooks (plus the two bonuses eBooks) at an absolute steal of a price. Grab the chance now.